Are you considering a Destination Wedding?
Destination Weddings can be as large or as intimate as you want them, from just the two of you to a group of 100+.  Destination Weddings are a growing trend and a great way to spend quality time with family and friends prior to the BIG DAY!
Top reasons to select a Destination Wedding: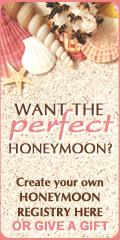 Location
You decide what type of scenery you want!  Have you always dreamed of a wedding on a beach or saying your I-do's on top a mountain peak?  This is your chance to make your dreams come true!
Stress Free
There is very little stress in planning as you work with our Destination Wedding specialists to take care of the details for you.  They'll work with the onsite wedding coordinators to ensure your day is perfect!
Cost Friendly
Traditional weddings can cost as much as $20,000 and that doesn't include the honeymoon. Destination Weddings encompass the ceremony and honeymoon still leaving money to start your life together.
Relaxation
You usually arrive onsite 2-3 days prior to your ceremony to finalize local residency requirements.  Your early arrival allows you to relax and enjoy the days leading up to your wedding.
Unique
Your day is guaranteed to be unique…  from the days leading up to it, to the ceremony itself and the party afterwards. It's your day to do exactly as you wish!  Dance in the water, "trash" your dress or whatever else makes you happy!
Once in a Lifetime
It is truly a once in a lifetime celebration!  It's a private intimate party just for you and your guests!  Share it with your family and friends and enjoy your time together.  You'll cherish the moments and memories you make!

Most brides, when choosing a Destination Wedding, envision themselves standing with their toes in the sand while saying their I-do's.  While you must decide what's the perfect setting for you, here are a few ideas:
Beaches
Gazebos
Waterfalls
Catamaran cruises
Mountaintops
Botanical Gardens
or even Historical Parks

Residency requirements can vary from country to country but here is a list representing the most popular destinations.  Most locations will require passports to be good for at least 6 months, and a divorce or death certificate, if either party is divorced or widowed.
Mexico: 3 days, local health certificate/blood test
Jamaica: 1 day (with prior application)
Bahamas: 2 days
Hawaii: No waiting period
US Virgin Islands: No waiting period (with prior application)
Puerto Rico: No waiting period, local health certificate/blood test
Barbados: No waiting period
British Virgin Islands: 3 days
Cayman Islands: No waiting period
St Maarten (Dutch): 3 days
St. Martin (French): 30 days
St Lucia: 2 days
Aruba: No waiting period (with prior application)
Turks and Caicos: 3 days
To enhance your Destination Wedding, consider a Honeymoon registry! 
It's the perfect way to get gifts you want! Click the link below to find out more: